Lisa D'Amato Likes Balls, Jason Bentley "Not Sure" About Elephants
I wasn't at Banksy's Barely Legal opening party last night, but I did bump in to OBEY artist Shepard Fairey later on at La Cita downtown, and he told me all about it. He said that it was 'amazing' (not an unexpected response from Fairey, who believes Banksy to be one of the most important artists alive), and that there was an 'elephant'.
Curious to find out what he meant by 'elephant' (new RISD terminology for stenciling, perhaps? the latest argot for video installation?), I went online and googled "Banksy elephant". To my surprise, I discovered that by elephant, he meant an actual elephant, one with big flappy ears and a tail, albeit painted in shocking pink and gold in the style of a dingy gay pub in London's East End.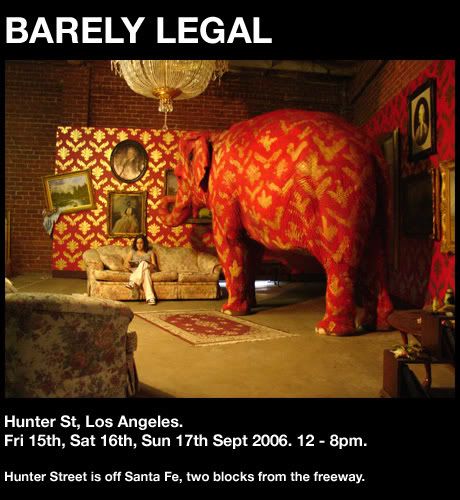 I found a story on the BBC website showing photos of the 37-year-old pachyderm and of KCRW dance music DJ Jason Bentley, who was at the opening. Jason Bentley, by the way, is the one and only interview subject I have ever bawled in front of - I had PMS and cried like a little baby when he started talking about the ecstasy of playing for festival crowds. Anyway - the BBC journalist (who referred to Bentley as 'an American radio commentator') quoted him as saying "I'm not sure what the point of having an elephant in a warehouse in downtown Los Angeles is."
Jason - we're not sure what the points is either, but seeing an elephant in a warehouse in downtown Los Angeles is something that everyone should do at least once in their life. Fellow elephant hunters - you can find Nelly hiding out on Hunter Street near Santa Fe (although the elephant is apparently only there for an hour a day).
Art lovers also should note that Shepard Fairey's biggest show of the year opens on Saturday night at the Merry Karnowsky gallery - be there or be totally L7. I caught Fairey just as he and wife Amanda were leaving La Cita, the venue for Dance Right, a weekly shindig where Fairey DJ's each Thursday under his turntablist moniker, DJ Diabetic (he is a real-life diabetic). DJ Pubes is also resident.
The soiree is organized by Matt Goldman who works at Shepard's design studio, Studio Number One. Tonight's theme was Prom Night - so there were slow dances, shoulder pads, corsages, a prom photographer, songs from the Dirty Dancing soundtrack, and puke.
In true laidback LA style, only 50% of attendees actually bothered to wear prom costumes - although those who did, went all out. A man in a top hat with a massive curly moustache who looked like a cross between Philip Seymour Hoffman and a walrus was pronounced prom king. I was most distressed that my roommate Alexis Florio was not named Queen, so fabulous was she in her red lace and silk beribboned 1980's Debbie Gibson gown, purchased that very afternoon at Goodwill in Los Feliz.
Outside in the smoking area I ran into Dave Conway and Jimmy Brayle who run Little Radio, and they told me that they plan to throw Little Radio-themed parties at festivals around the country, from SXSW to CMJ and Slamdance. Back inside I saw Lisa D'Amato of America's Next Top Model fame, sadly not in prom attire, dancing up a storm on the stage. At one point she became so excited she tore down the glittery disco ball from the ceiling, played with it for a while and then threw it into her adoring crowd. Thanks Lisa - it aint a party until a drunk model starts playing with your balls.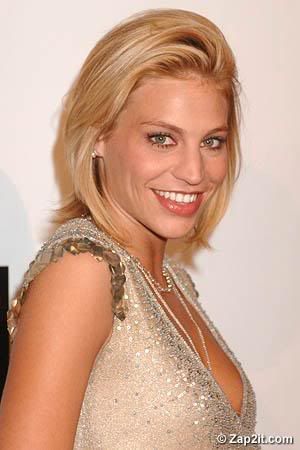 --------